CALL US TODAY
760.809.3069
Spend a weekend relaxing at the beach and learning to surf!
Eli Howard offers an unique way to experience and explore the California Coast and State Park Environments. An easy drive from downtown San Diego and L.A. areas, the North County beaches provide a beautiful ocean coastline to learn surfing. Over the weekend, participants will receive a full wetsuit to use throughout as well as during the 2 hr clinic and coaching lesson.
The weekends begin at 1pm at our San Elijo State Beach campsite just steps from the ocean. There will be clinics on surf gear, sharing ocean knowledge, and providing current & tide information. We will drop into a 2 hr surf lesson to learn fundamentals and improve on skills with the highly regarded and awesome Eli Howard instructors to guide you. Whether you are a beginner or a surfer looking for advanced techniques, our clinics run smoothly with a 3:1 (student to instructor) ratio providing each surfer with the individualized instruction needed to help you reach your highest potential.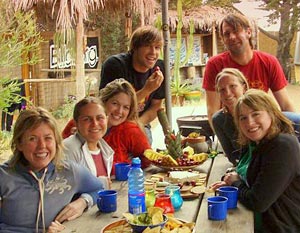 Throughout the weekend all guests will have the opportunity to surf more sessions by prior reservation, rent boards to paddle out on their own, relax on the beach, or choose a variety of activities such as lagoon hikes, riding beach cruisers up the coastline, and visit the cozy beach shops and coastal towns. This weekend is about you — sit back and relax in the afternoon with tropical fruit and other refreshing appetizers before you get dinner straight from the grill with hamburgers, hotdogs, and great veggie & salmon burger choices. After a hearty meal we all can soak in the evening sunset, but save room for our famous yummy Dutch Oven Treats!
San Elijo State Beach is an ideal setting for sharing with friends and family under the dazzling stars around a cozy campfire with the sound of the waves and the days surf stories to listen to. The next day warm breakfast is included with fresh pancakes, tasty bacon, and our fresh fruit displays. All meals include a variety of food choices and offer delicious vegetarian options prepared by Eli Howard's camp chefs and instructors. Spend the morning walking the beach, paddling out for another surf session, or simply relax in a beach chair with the weekend paper.

By the end of the weekend guests are filled with a sense of confidence in the ocean, taking with them great experiences from the coast, and the burdens and stresses of daily life removed. You depart feeling rejuvenated, refreshed, and alive... get prepared to be hooked!
Overnight Weekend Escape
3:1 ratio surf lesson
Saturday 1pm through Sunday at 1pm
Minimum enrollment of 8 surfers is required for a single booking
Surfing gear is provided (full wetsuit, foam surfboard and sunscreen).
Tents and sleeping pads provided for overnight.
See packing list for details on what to bring.
All meals and refreshments included starting with appetizers on Saturday Afternoon, tasty BBQ Dinner, and warm breakfast get you ready for your second day.
The Weekend Escape requires a $75.00 non-refundable deposit two weeks prior to the start date of the camp and the remaining balance on the first day of camp. We accept checks or cash. (Please make checks payable to: Eli Howard Surf School).
See our camp packing list for details on what to bring. If you need email or an internet connection, high-speed WIFI internet access is available at our campsite through SBC FreedomLink.
---
Surf Lessons | Surf Camps | Locations | About Us | Praise | Prices | Links