CALL US TODAY
760.809.3069
Experience a week-long beach-camping odyssey while learning to surf


"Drop-in" this summer to the best vacation of your life! Eli Howard's Overnight Surf Trips are a structured surfing adventure designed to provide five days of quality surfing instruction, exploratory activities and four nights of memorable beach camping experiences.

During each day of this surf trip, students will receive up to four hours of quality surfing instruction. Students will spend their camp days learning important water safety skills, surfing fundamentals, and exploring the State Parks' coastal environments. Students will also have numerous opportunities to relax and enjoy other outdoor activities such as body boarding, daily yoga/stretching sessions, body surfing, and other organized beach games.

Students are also provided with daily advanced surfing instruction, ocean conservation tips and their choice of themes and activities in the afternoon. Daily activities may include lagoon hikes, natural and cultural history of the California coast, marine exploration, and evolution of surfing culture.

Surf trip evenings will begin with a hearty meal prepared by Eli Howard's camp chef and instructors. Camp menus may include hot pancakes, authentic fish tacos, pizza, grilled burgers and homemade fries, tropical fruit, lunch deli spreads, and yummy Dutch oven desserts. All meals will have a variety of food choices as well as offer a vegetarian option. Special needs can always be arranged in advance.

As the sun sets over the Pacific students may relax with board games, enjoy our camp library with books and movies, play ping-pong, as well as lounge around a cozy campfire and enjoy s'mores, hot cocoa or cider. Camp staff will provide campfire entertainment and fun evening activities.

Eli Howard instructors support a non-competitive environment and put safety as their first priority. All staff members are First Aid and C.P.R. certified and head instructors are all American Red Cross certified lifeguards.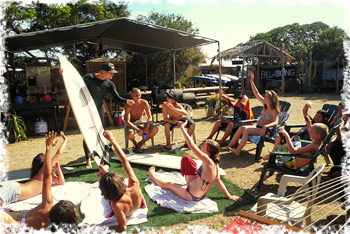 Overnight Surf Trip
San Elijo State Beach, Encinitas, California
Teen only! Ages 13-17
3:1 Student to Instructor ratio
Monday through Friday, five-days, four-nights
daily add-ons welcome (space permitting)
Maximum enrollment is 14 students
A minimum of seven individuals are required
Camp times: 8 a.m. Monday to 3 p.m. Friday
Both male & female instructors (minimum of 4) stay overnight for surf camp
All surfing gear is provided (full wetsuit, foam surfboard and sunscreen)
Tents and sleeping pads provided for overnight
See our packing list for recommendations on what to bring.
All meals included, starting with lunch on the first day, and ending with lunch on the last day.
Refreshments always available
Early arrivals are available starting Sunday after 4pm upon reservation for only $65 per surfer!
School &amp large groups packages for weekly trips available- call to create a trip just for your special group!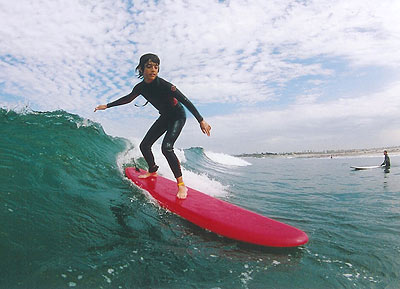 Overnight camps require a $200.00 non-refundable deposit two weeks prior to the start date of the camp and the remaining balance on the first day of camp. We accept cash or checks, Visa and Mastercard. (Please make checks payable to: Eli Howard Surf School).
See our camp packing list for details on what to bring.
---
Teen Only Weekend Surf Trips! Wanna try our popular Overnights and need a quick way to get out of the house this summer? Please see our weekend page for more details!
New Surf Clinic Week!- Great for adults and families to get to the coast and surf! This trip includes a daily surf lesson & camping in our relaxing camp. Check out local eateries or create your own meals in our complete cooking area. We make it easy with tents set up for you & all the surf gear - just steps from the beach! Must be over 18 yrs old, or with adult supervision for this adventure.
REGISTRATION IS EASY!
Click the REGISTER button below for the surf trip you'd like, or
Download a registration form - call to verify availability, then fill-in and send back to us, or
Call us directly at 760.809.3069
Upcoming Overnight Surf Trip (San Elijo):
Overnight Surf Trip- San Elijo State Beach
Dates
Times
Location
Cost
Status

---

Monday, July 30, 2018 to Friday, August 03, 2018
9AM - 3PM
San Elijo
$995 TEEN ONLY
Open
---
Upcoming Family Overnight Surf Trip (San Elijo):
Family Overnight Surf Trip- San Elijo State Beach
Dates
Times
Location
Cost
Status

---
---
---
Surf Lessons | Surf Camps | Locations | About Us | Praise | Prices | Links